Ambic Laboratories have manufactured state of the art laboratories in the UK across a range of sectors – our clients range from schools and universities to global leaders in scientific research and industrial testing.
All our furniture is manufactured to exact specifications in our manufacturing plant, so specific requirements for the most demanding of environments are core to the planning, design and manufacture of bespoke laboratories.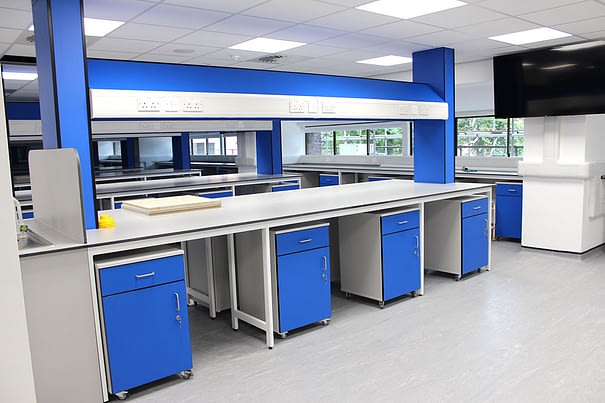 Newcastle University Medical School presented Ambic with a unique challenge in their Leech Building. They commissioned a new laboratory, large enough to teach up to 200 students at the same time, while maintaining the flexibility to rearrange the laboratory to create open spaces, different desk and seating configuration to match the teaching format. Students may be required to engage in practical, computer and wet work so the laboratory had to be able to cater for a combination of all three if necessary.
An additional problem for a flexible mobile laboratory is the need for services such as power and data to be supplied to each desk group, but still allow for it to be easily removed, the layout reconfigured and then reconnected as and when required.
The existing structure consisted of two laboratories with a prep room in between. Ambic started by having the individual areas knocked through to create a large open plan space and then went to work designing bespoke furniture to meet the very specific needs of this new laboratory.
Each desk was manufactured in hard wearing solid grade laminate Trespa
®
TopLab
®
Base has excellent hard wearing, impact resistance qualities and performs well under high moisture environments or where frequent cleaning is required.
The desks are all mobile with fixable castors that can be locked in place once the desk is in position – robust and solid when in position while at the same time providing a flexible option for different teaching configurations.
IT solutions were created for each laboratory desk in the form of an additional mobile unit with pull out sliding tray for a computer keyboard, Along with additional storage in the form of mobile drawer units gives each laboratory desk group is provided with additional functionality to enhance the learning environment.
The problem of supplying power and data services to each desk configuration was solved with a clever system of modular service stations built into the desk which connect either via a wall socket or from ceiling connections to an integrated column built into the desk.
This provides an easy solution for non-skilled installation and reconfiguration of the laboratory quickly, maintaining safe and fully functioning services in each layout.